Reading time: 5 min.
Who's the face behind Nightline France's new branch in Lille?
From a recruitment email to evening shifts helping other fellow students: how did Simon become a volunteer at Nightline?
Simon Lottier is currently a PhD student at Arts and Métiers. Despite his important commitment to this research work, he has always made time for Nightline, since its foundation in 2017. 
Indeed, this 23-year-old student is among one of the first people to follow listening-volunteer training. Just as he was looking for a cause to get involved with, he received a recruitment email from Nightline Paris. Being already accustomed to being an attentive listening ear for his peers and needing no convincing that listening is an essential part of supporting the wellbeing of others, Simon didn't hesitate to get on board and help his peers have someone to confide in. Even back then, he decided he wanted to make a big commitment to the association. Within a few weeks he decided to commute between his internship in Normandy and his evening shifts in Paris, which he didn't want to disrupt. 
His commitment to student mental health has continued to grow over the plast few years. Without ever stopping taking calls and chats, Simon gradually took on more and more responsibilities at Nightline. Inspired by the idea of accompanying newcomers to the association, he joined and later became head of the training team, first in Paris and then also in new French student cities where he participated in the spreading of Nightline's expertise...
Image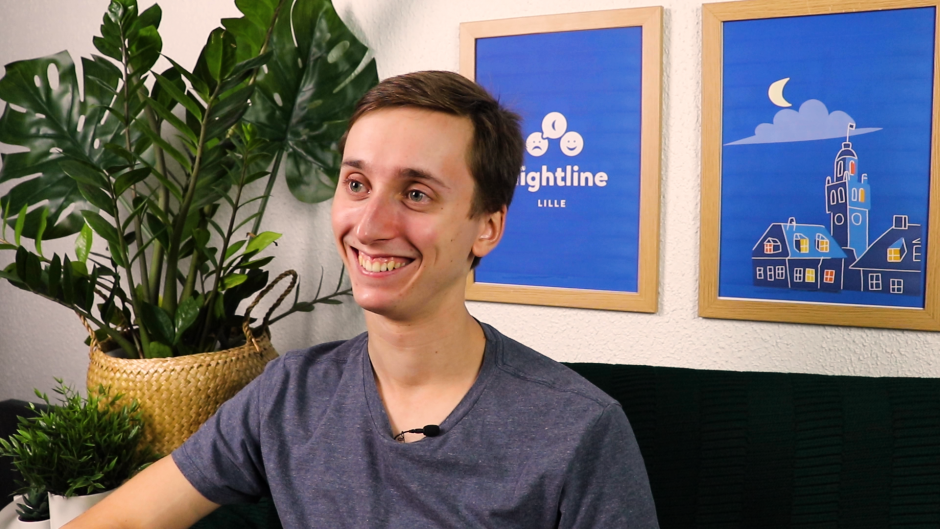 Giving up his role as a listening-volunteer to devote himself fully to the deployment of the Lille branch.
When the idea came about to open listening services in other student cities, it was quite natural that Simon agreed to become the president of the Lille branch, thus taking charge of its launch.
The opening of this new structure was nevertheless accompanied by an important decision for Simon: to give up being an anonymous volunteer. Indeed, as Chairman of the branch, he also becomes a public face of Nightline France, and thus, for the first time in three years, has to give up taking calls and chats for the helpline.
So why did he choose to take this step, as he is particularly attached to his role as a listening volunteer? Above all to make the service available to students outside the Paris region. Lille is indeed a major French student city, with dozens of training opportunities and almost 115,000 students enrolled in various courses, who may also need to talk to their peers. This change in status also enables him to continue to pass on his knowledge to new volunteers.
A launch made possible by the support of local partners
The opening of this helpline was made possible by the support of several partners in the area, such as the University of Lille, the CROUS and the Catholic University of Lille. Thanks to their support, Nightline Lille has been able to train volunteers and enable Lille students in need to find attentive ears to talk to and confide in.