Reading time: 2 min.
Panam Mental Workshop #1: Nightline provides tools to better understand the mental health of Parisian students
Why hold these workshops?
The aim is to come up with concrete solutions, such as the online directory developed by Nightline, and to mobilise institutions in order to make these solutions widely known to students by region.
The idea is also to spread this mutual support and information network beyond the health crisis and to familiarise youth workers across Paris with mental health issues specific to students.
Who were the guests?
This first Panam Mental workshop brought together various experts in mental health and student well-being who spoke during a 2.5 hour webinar.
Image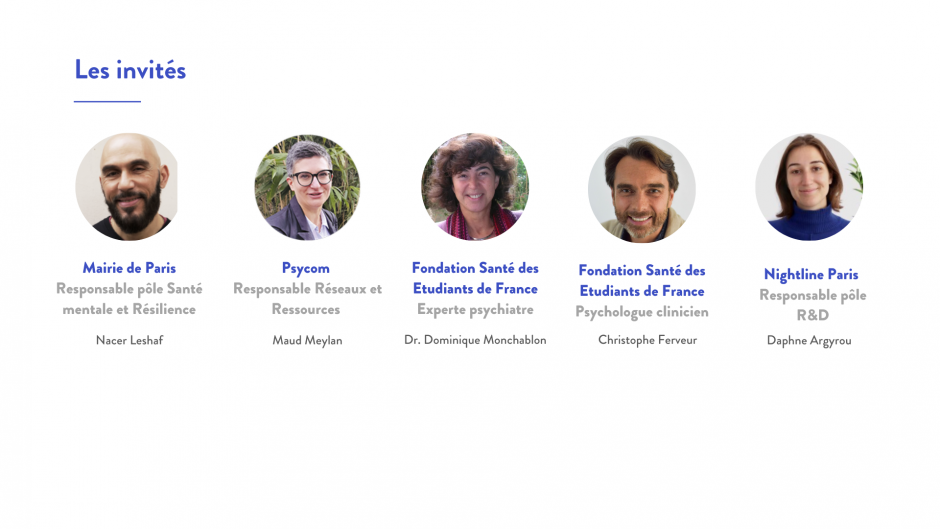 Légende
Guests of the first Panam Mental workshop
The event started with an overview of mental health among students with testimonies from people directly confronted with this issue (neighbourhood mediators, public school teachers, etc.), as well as an introduction by Nacer Lashef, Deputy Head of Mental Health and Resilience at the Mairie de Paris.
Maud Meylan from Psycom then presented Psycom's "Mental Cosmos" teaching kit to illustrate and explain the concept of mental health and give keys to better understand and talk about it.
Two representatives of the Fondation Santé des Etudiants de France, Dr. Dominique Monchablon, psychiatrist, and Christophe Ferveur, clinical psychologist, took the floor to talk about the reception of a person in distress, student distress and the psychological impact of the Covid-19 pandemic on this population.
Daphne Argyrou from Nightline France presented the concept of active listening proposed by the association's listening services, as well as the new online directory developed by Nightline and available on our website.
The event was a real success. 47 participants tuned in, including representatives from local associations (Co'p1), but also from institutions (Mairie du 19ème, DASES) and local initiatives (EPJ La Salle, EVS Necker Falguière).