Reading time: 3 min.
How are you, vraiment ? Nightline forms a new anglophone partnership with ULIP
Image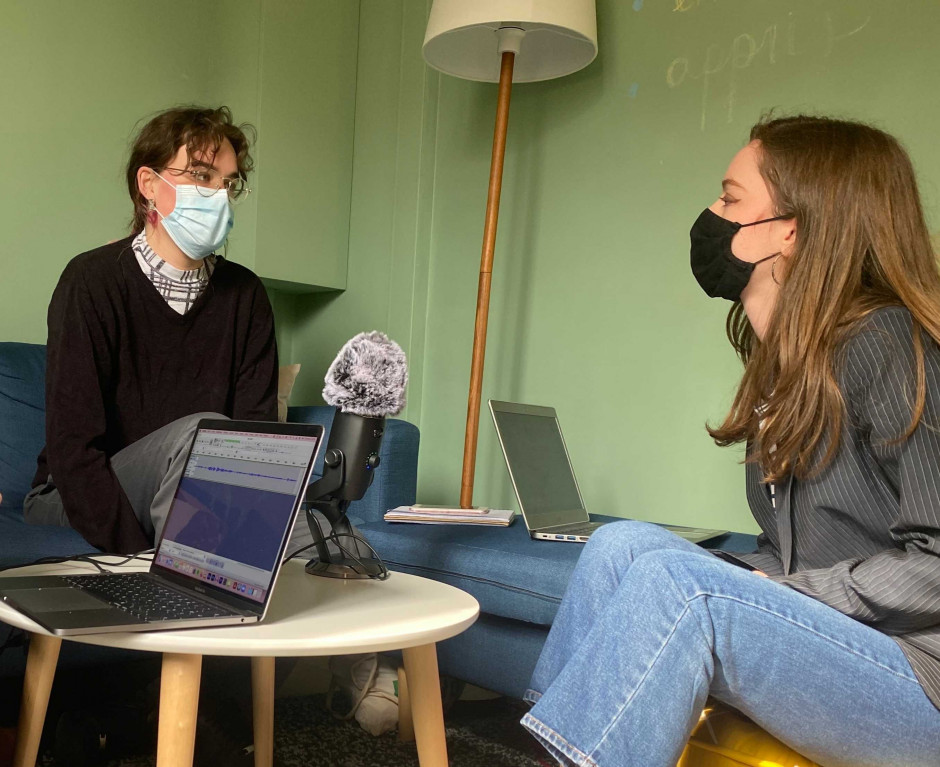 Légende
Ellie, Student Welfare Officer at ULIP (left) and Bea, Service Civique at Nightline (right)
ULIP & Nightline: a new partnership
The partnership was established by ULIP graduate Bea Kessedjian, from Nightline Paris' Communications Team. Bea has been liaising with Ellie Kerr the university's Student Welfare Officer to collaborate on projects, share ideas and offer reciprocal support. Initially the two met at the Students Union office at ULIP to discuss upcoming project ideas and for Bea to deliver some Nightline "goodies" for the students including posters, tote bags and visit cards. This was a key meeting to ensure a solid foundation for the beginning of this partnership and increase visible awareness of Nightline around the university's student common areas.
Vide Ton Sac Podcast season 3: How are you, vraiment ?
Subsequently, on 10th March, Ellie visited Bea at the Nightline Paris office for a tour and a podcast interview which can be found on the Nightline France Youtube Channel, Spotify and Apple Podcast. In this interview, Bea and Ellie discuss how mental health is impacted by being a foreign student in Paris pre and post the outbreak of the Covid 19 pandemic and how both Nightline and ULIP have navigated this in their common aim to support student mental health. The interview is the first of what will become a series of podcast episodes solely devoted to Nightline's anglophone line and volunteers, partnerships and collaborations. Stay tuned for more!
Improving student mental health support together
In the coming weeks Nightline plans to support the ULIP student's union with their upcoming "Money on my Mind" campaign led by Ellie which aims to remove the stigma surrounding financial struggles and raise awareness of the negative impact class divide can have on young people during their studies. Nightline also of course remains available for ULIP students to contact if and when they feel the need to talk to a fellow student for support in an anonymous, confidential, non-directive, non-judgmental environment. The service is free and accessible via telephone or chat. 
Bea is also keen to encourage fellow ULIP students to get involved in the association through volunteering as she did during her second year at ULIP. This is a great opportunity for students to learn a new skill by undertaking active listening training as well as widen their network of friends in Paris and gain valuable work experience in a multilingual office environment. And of course to practice their French as students will not only be able to meet French speaking students work as volunteers for the francophone line, they will also have the option of becoming a bilingual volunteer and working for both lines if and when their level of French is adequate. 
Student mental health support is an essential component of any higher education establishment. Nightline is pleased to be now part of the ULIP community and endeavors to support the university's mission to encourage and nurture students through their studies. From the team at Nightline, we look forward to working alongside the University of London Institute in Paris and their Students' Union and thank them for their support.