Reading time: 3 min.
Let's talk about Diversity & Inclusion; Shining a light on "Hidden People" and using empowering language
Image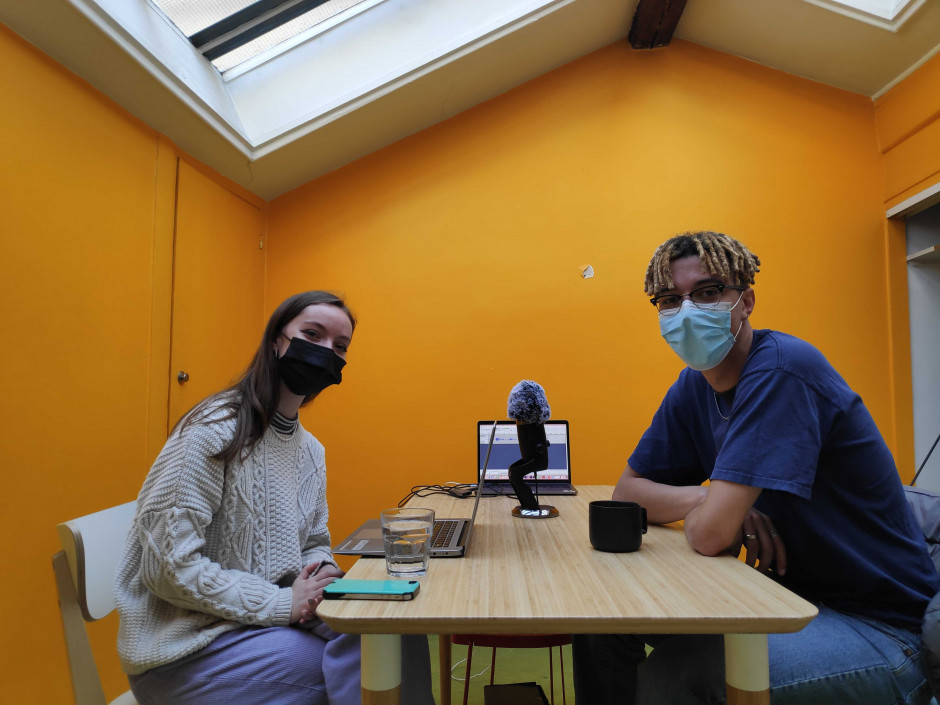 Légende
Bea and Joe recording the podcast in Paris
Nightline is committed to supporting the welfare of ULIP students in any way they can and plans to provide some basic training and mental health resources for the students' union. Bea also continues to host podcast interviews with ULIP students to amplify their voices on a range of poignant issues linked to student mental health.
On Monday 19th April 2021, Bea sat down with Joe Linton, a final year student at the University of London Institute in Paris. Joe is the Diversity and Inclusion officer at ULIP as well as the founding member of the PGM (People of the Global Majority Society). Bea interviewed Joe about his student roles and responsibilities, the projects he's been involved with of late and his thoughts on the relationship between student mental health and identity.
Language is powerful. In the podcast interview, which can be found on Nightline's Spotify and Youtube accounts, Joe shares his inspiration and reasoning behind changing the name of his society from BAME (Black, Asian & Minority Ethnic) to PGM. Joe states, "I'm really interested in the way power works in society" and he hopes this shift in language can not only "give people back a little bit of power" but also "change the way we talk about people from different ethnic backgrounds".
"Hidden People'' is a project Joe has been working on recently in collaboration with India Peart Barr, the ULIP SU President and Professor Joanne Brueton, lecturer and staff Diversity and Inclusion Liaison. The project centres around informal discussions between staff and students, grounded in academic writing about a host of intersectional issues between staff and students. Unfortunately it has had to take place for Microsoft Teams this year but the turnout has still been high. So far, there have been conversations around race, LGBTQ+ issues, class and soon there will be a seminar on ableism. Joe highlights how easy it can be to "slip into ignorance" when you only see "what's relevant to you". However, he continues, it is paramount to challenge this tendency and keep the conversation surrounding these issues going.
Bea and Joe hope their discussion provides students with an opportunity to feel validated and not alone when grappling with these complex issues surrounding identity. If any of the issues discussed in this article or the podcast resonate with you and you would like to seek support and solidarity feel free to follow and get in touch with the following associations: SOS racisme, SOS homophobie, Caélif, Osez le féminisme, J'accede, and of course Nightline France remain here to listen to you about anything and everything.