Reading time: 7 min.
How to best experience preparatory classes
Image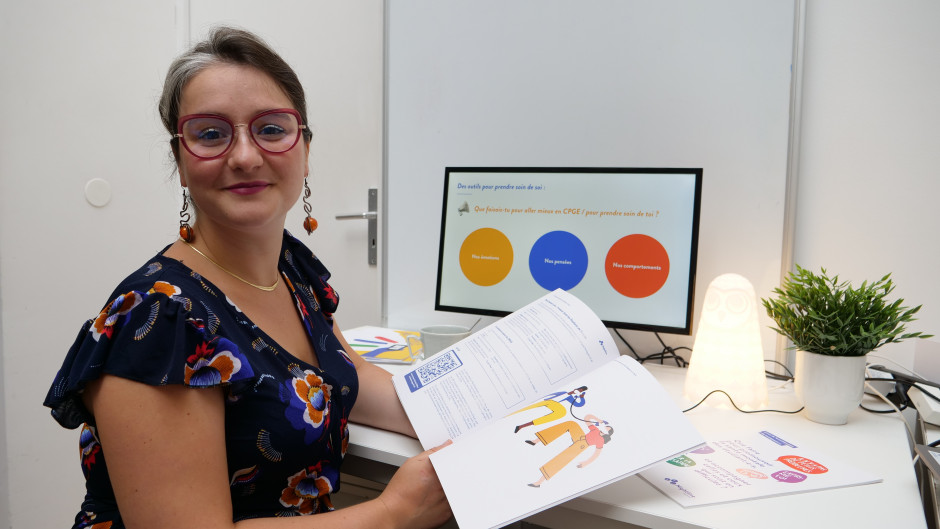 Légende
Eléonore Jarrige, psychologist at Nightline in charge of the project
Marion : Why do you think it's important to intervene with CPGE students?
Eléonore : Among the students who volunteer at Nightline, we count several ex-CPGE students who have attested of the hardship associated with those times - for them or for their fellow classmates. They speak of difficulties such as stress management, pressure for academic success, sleeping disorders, bouts of melancholy - temporary or not - and of the enduring stigma surrounding feeling down, where you feel like you can't say it out loud and seek help. These ordeals concur with studies and research results: CPGE students are more likely to develop mental health problems and most notably anxiety disorders, sleeping disorders and depressive episodes. (Keller, Mauras & Marcel, 2020 ; Morvan et al., 2016)*.
Thus, we consider it crucial to develop distinctive actions for those students - they tend to feel somewhat excluded from the university health-care system since they're affiliated with high-schools. Besides, they're not necessarily aware they have the right to health-care services because of a lack of access to information. Lastly, those students specifically are pressured into "not wasting time" and are fed the subtext that mental-health difficulties are a sign of weakness and that it's better not to let it show. Always on the background: a race towards educational success.
Consequently, the main goal of our prep schools interventions is to enhance the equality of opportunities among students regarding access to the support and the coverage of their mental health. We also wish to give the teachers keys to be able to provide better support to their students and to promote better mental health.
I think what's at stake for those CPGE students is developing a caring and supportive culture and to change the public perception around asking for help. For we aim to equip them during their prep-school years, but also hereafter: during the next steps of their academic careers as "work-in-progress" young adults.

Marion : How many interventions occured during the academic year 2021-2022?
Eléonore : 
During the academic year 2021-2022, 14 mental health prevention interventions helped us reach 1 144 CPGE students in three Parisian high-schools: Chaptal, Raspail and Jules-Ferry.
Nurses from 6 different high-schools were able to participate in support groups catering to nursing staff. 26 professionals undertook our training about students' mental health.
Moreover, as the first CPGE to welcome the project inside their walls, Chaptal high-school now counts a permanently-manned psychological office. Professionals come in from the Amsterdam CMP - which is tied to Paris' UHG or University Hospital Group - to improve access to care. This arrangement (psychologists and psychiatrists present on site five hours a week) has been widely successful ever since it started.
Marion : What do the interventions look like?
Eléonore : Interventions occur during class time for approximately a period. We talk to students about mental health in general, and then about the difficulties most common in prep schools -sleeping disorders, anxiety disorders and depression. Then, we see what can be done on a daily basis to practice self-care: strategies centered on emotions, thoughts and behaviours. In the end, I inform them of the resources available to them if they ever feel down - within their school, our directory Mon Soutien Psy Gratuit, the Nightline hotline, our tool box kit). In the whole course of my intervention, I broadcast audio-recordings from ex-CPGE students sharing their experience to illustrate my point. Quite a lot to take in, in one hour! But we do try to make it as interactive as possible.
Also, each student is given a booklet which includes all the key information.
Image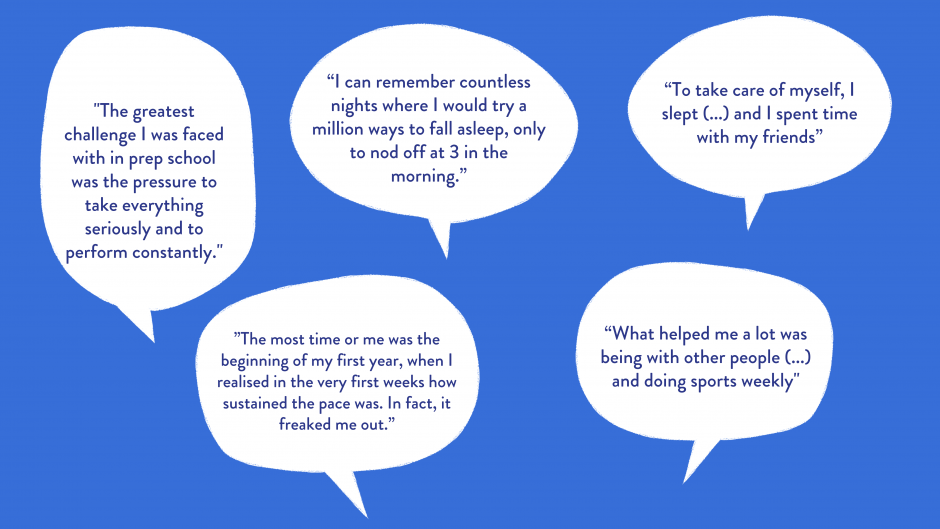 Légende
Audio-testimonials broadcasted during the intervention
Marion : Which kind of feedback did you receive from both the students and the professionals for your actions?
Eléonore : For each action implemented by Nightline, our R&D division provides an assessment procedure. That gave us the means to gather quite a large amount of feedback, both quantitative and qualitative.
The vast majority of the students' feedbacks are positive ; it features an average satisfaction score and an usefulness of the intervention score, both very high. We were also able to gather comments to upgrade the intervention. Overall, we've noted that the students were happy to address the topic of mental health in such a setting. They were also happy to discover new resources unknown to them before and to feel seen by an association whose main concern is their well-being.
As for the teachers, their satisfaction level was very high as well. They enjoyed having a safe space where they could ask questions and exchange on situations encountered in their work surrounding their students' mental health - and how it can be problematic sometimes. Most of the time, the teachers engaging in this training are already familiar with the topic of mental health. Still, it enables them to talk about their practices, to be comforted they're doing the right thing but also to question their work habits to determine alternative measures. It also enables them to raise freely the issue of suicide - a topic yet very taboo nowadays. 
Image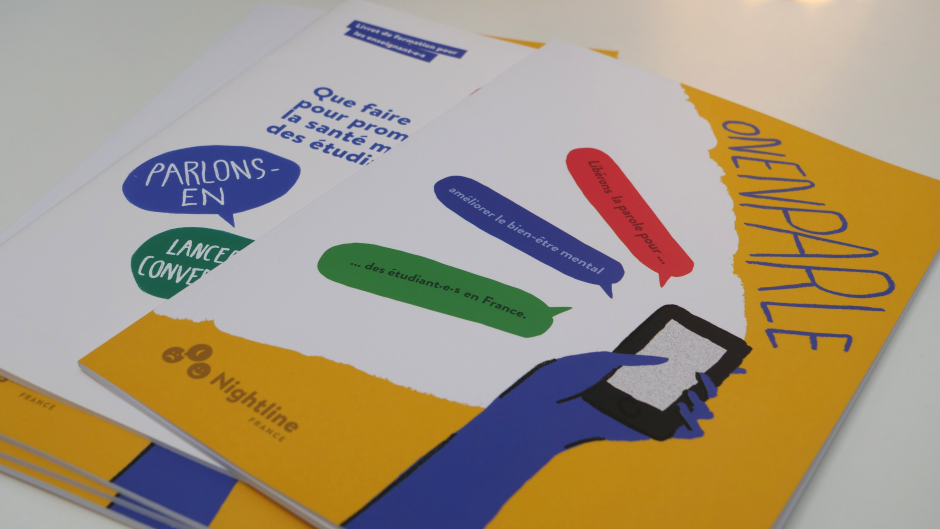 Légende
Booklet for students
Marion : You also offer training sessions for the staff. May you tell us more about it?
Eléonore :
Of course. I have elaborated a training catered towards  CPGE teachers where the other professionals are also invited. We teach them pedagogical techniques to promote better mental health among the students, to identify early warning signals from students in distress - moreso how to address the issue, which posture to assume, where to redirect them and how to stay in touch with them.
We also support school nurses in various Parisian establishments by offering them discussion groups on student mental health, which allow them to talk about the sometimes complicated situations they encounter and to learn from each other's experiences in order to provide a cross-section of their daily practices.

Marion : How is the project meant to be involving in the upcoming year?
Eléonore : For the coming year, our objectives are to reproduce these interventions in our partner high schools (Chaptal, Raspail, Jules-Ferry), and to find new high schools willing to set them up (which already seems to be the case for this 2022/2023 school year, notably with the Carnot high school). We would also like to propose this intervention in other cities where Nightline is established, starting with Lyon. We have received the support of an endowment fund for this purpose.
We have also co-constructed a new project with Nightline volunteers, which should be implemented soon. We organized some very interesting workshops with 6 volunteers, and this allowed us to bring out 4 major peer prevention projects. We haven't decided yet what will be the priority, so we'll keep it a surprise for now!

Translated by Vassilissa Thirault.
Bibliography:
*Keller, J., Mauras, T., & Marcel, J. L. (2020, December). Création d'une consultation psychiatrique ouverte aux préparationnaires du 5e et du 6e arrondissement de Paris: retour d'activité sur l'année 2017–2018. In Annales Médico-psychologiques, revue psychiatrique. Elsevier Masson.

Morvan, Y., Coulange, I., Krebs, M. O., Boujut, E., & Romo, L. (2016). La santé psychique des étudiants. Les vies étudiantes. Tendances et inégalités, 213-234.
Image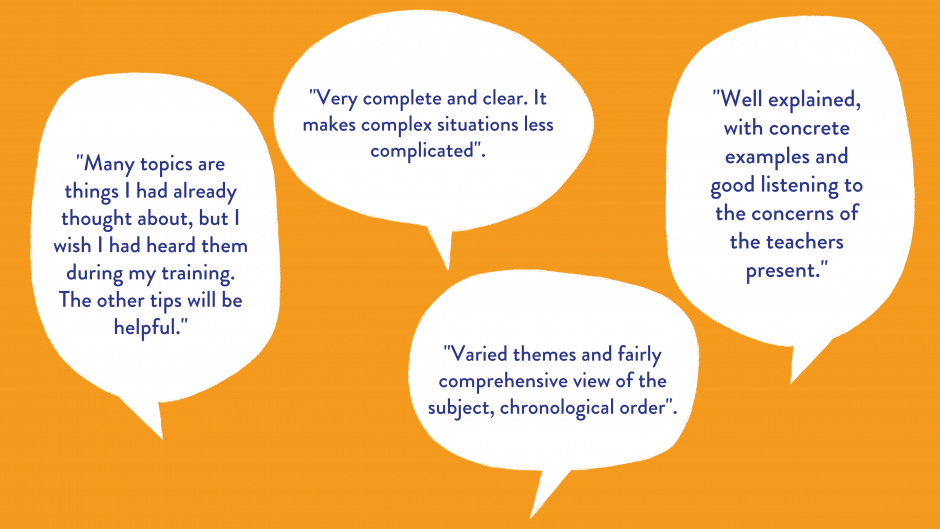 Légende
Retours des professeur·e·s suite à l'intervention